Our Team
From family, travel, sports, fishing, horse riding, and classic cars – we're a pretty lively bunch here at Ideal Electrical. What we do share in common is an absolute commitment to providing the very best in service to you.
Find out a little more about us below:
Gonzalo Errejon
Chief Executive Officer
Gonzalo brings to Ideal Electrical a wealth of experience in the electrical wholesale industry and with Rexel, our parent company.
He joined Rexel back in 2001 as National Category Manager, Datacom, HVAC and Renewables Energies at Rexel Spain, then, since 2003, progressively extending his scope of responsibility to be the Chief Sales and Marketing Officer (2003-2008) and the President & CEO at Rexel Spain from 2009 to 2013. From 2013, he moved to Paris as Group Chief Marketing Officer and SVP Purchasing & Supplier Relationship Development reporting to our Group CEO, Patrick Berard. Gonzalo is also President at Bizline (our home brand) and an Executive Committee Member at the Rexel Foundation, which is dedicated to innovation in energy efficiency and energy progress.
Gonzalo holds a PhD in Automation, is an Industrial Engineer from the Polytechnic University in Spain, MBA from INSEAD in France, Master in Leadership from the IMD in Switzerland and Master in Marketing & Sales from ESIC in Spain.
He's a sporting enthusiast, playing any sport, including golf, ski-ing and swimming, all to a very high level, which fits well with our Kiwi culture; hopefully we can get him to support the All Blacks along with his family of 4 boys and his wife.
Mario Brazzale
Chief Financial Officer
Mario is an experienced Finance Executive who joined the Ideal team in November 2014 after a number of roles in both the manufacturing and service industries. His financial experience spans over 20 years in a variety of organisations including KPMG, ALSTOM, Transfield Services, ABC Learning Centres and RCR Infrastructure. Mario has a Bachelor of Business Administration from Simon Fraser University and is a member of the Canadian Institute of Chartered Accountants. Mario has a passion for empowering people to develop skills valuable to their careers and their performance in the organisation. When he is away from the office, Mario enjoys spending time with his family skiing and fishing in his adopted homeland of New Zealand.
Steve Braniff
Chief Operations Officer
Steve is responsible for the operational direction of the company including Central Purchasing, Supplier Management, Category Team Management, Customer Services, Business Systems, Quality Assurance, Business Improvement and Master Data. Steve has 21 years' experience in the Electrical industry starting with Mastertrade before joining Ideal in 1999. He has held roles including Branch Manager, Regional Manager and most recently as National Purchasing and Inventory Manager. With this wealth of experience Steve is ideally positioned to drive forward our operations initiatives in support of our sales.
Shane Rogers
General Manager Sales
Shane started working as a sales rep for Ideal North Shore in 1997 before becoming an electrical / engineering apprentice. Since becoming a registered Electrian Shane has taken on several important roles with ideal including Branch Manager at Ideal Nugent street 1999, Area Manager 2012, Regional Manager 2014 and National Sales Manager 2015. Shane is married with 2 children and enjoys overseas travel, football and most other sports.
Matthew Still
Chief Marketing and Transformation Officer
Matthew has worked for the company for eight years. Seven of those have been spent in our lighting division, where he has carried out a number of roles from Lighting Design, Sales, and Product Development. With a Certificate in Science and Technology (Lighting) from Massey University and has completed several other papers on marketing and management. Matthew travels abroad on a regular basis to attend international lighting fairs to ensure we are at the front when it comes to technology in our market. Matthew lives with his wife and young child in Auckland, after relocating from Christchurch just after the earthquake. He has competed in numerous ocean crossings with the Slate Swim series and likes to get out on his motorbike when time permits.
Tricia Payne
National Human Resources Manager
Tricia emigrated to NZ from the UK in 1998 and with her boys, she considers herself a local. Before joining Ideal, Tricia has had HR experience in variety of environments and roles, including wholesale, retail, business-to-business, public sector and not for profit; she started her career as a graduate trainee with Tesco Stores too many years ago, and had generalist HR experience with Nestle UK and Smithkline Beechams. In NZ, she has worked for Sky City and Griffins Foods, two iconic Kiwi brands before moving to Sara Lee where she was national HR Manager. At GWF she was People and Performance Manager before moving into a Sales Manager role within a sister company of the business.
More recently, Tricia has been contracting in a variety of Change Management roles mainly with Auckland Council and Auckland War Memorial Museum.Tricia loves the outdoors and can often be found mountain biking, tramping, ski-ing or generally enjoying beautiful New Zealand with her boys.
Steve Powrie
Managing Director Upper North Island
Steve started his life as an apprentice electrician in Auckland, once completed he headed to London to start his OE. Since his return he has spent all his working life in the electrical contracting and wholesaling arenas. Starting with Ideal in 2013 as a Key Account Manager and then progressing into the Area Manager role. He still holds a current Practicing License but enjoys Electrical Wholesaling given his passion for people and the ability to communicate with people from all walks of life. In his free time Steve loves watching his kids play sport and spending time with the family at his bach in Whangamata.
Chris Maltby
Managing Director Central North Island
Chris Maltby completed electrical trades apprenticeship out of high school and then took a year off to pursue the possibility of a career in Snooker. Upon failing dismally Chris moved into sales for motor and foods industries. In 2003 Chris moved with family to NZ from Sydney Australia and started with Rexel as a sales rep. Chris moved to the manager's role 2 years later. 2012 Chris was asked to run the Ideal branch in New Plymouth as well and within the first year, the branches were merged. In 2018 Chris was to be a member of the Branch Centric committee and an ambassador for the Challenger attitude program. This was a great year of growth personally and professionally. At the start of 2019, Chris moved into the Managing Directors role for Central North Island. Chris is based out of New Plymouth where his wife and our 3 daughters reside.
Nigel Isaac
Managing Director Lower North Island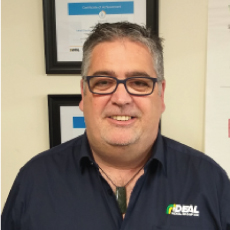 Nigel emigrated to NZ from the UK in 2006 with the Correction Service. In 2008 Nigel decided after 22 years of service in the UK & NZ it was time to pursue a different challenge and enjoy all that NZ had to offer. Nigel has held the positions of Counter Sales, Sales Rep, Account Manager and Branch Manager within the electrical wholesale industry and joined Ideal in June 2018 as Branch Manager at our Dunedin Branch. This was a great year of growth personally and professionally and Nigel was invited to become an ambassador of the Challenger Attitude Program. In July 2019 Nigel was promoted to the role of Managing Director Lower North Island. In his free time Nigel is an avid sports fan, more supporter than player these days, with his main passion being football.
Regan Dixon
Managing Director Upper South Island
Regan joined the company in December 1997 as a driver at our Riccarton Branch where he then progressed to Sales Rep, then Branch Manager before eventually moving across the city to become the Branch Manager of the Christchurch Branch situated in Fitzgerald Avenue. Regan was then promoted to Christchurch Area Manager, overseeing the 4 Christchurch branches, and in July 2015 became the Upper South Island Area Manager. An enthusiastic and motivated manager having experience from the basic branch level through to higher end management, Regan enjoys the challenge that electrical wholesaling offers. An avid sports fan but with a particular passion for rugby, which he has managed to represent both West Coast and Marlbourough at first class level and also played several seasons for Canterbury B. His other passion is his family; he is married to Sonia with two daughters Sophie and Mia.
Paul Commins
Managing Director Lower South Island
Paul Joined the ideal family as Sales Representative in 2007 and since then has worked in several roles including Branch Manager in Hamilton and Learning and Development Projects Manager – helping develop and lead the Challenger Attitude program. Born in Canterbury, the latest move for Paul to MD of the lower South Island involves a return to the mainland. Paul holds an undergraduate degree in arts as well as two post-graduate diplomas in marketing and management and recently completed a Master of Business Administration at The University of Waikato. His passion is Leadership and he enjoys seeing, and helping, those around him learn and grow. When not working Paul is spending time with his Wife and Daughters unless he is hunting, fishing, diving or surfing.