Ideal Electrical Branch Update Covid-19
28th March,
As we continuously review the needs of our customers during the Level 4 alert period, we would like to bring to your attention to the current status of our branches.
All branches are available for a call-out for essential requests at any time. All branches are closed on Saturdays, however they are available for essential call-outs.
Thirty of our branches will operate between the hours of 8:00 am and 14:00 pm from Monday onward, and you can find that list of open branches by here.
For online orders on our Webshop, please send them through as usual, and our branch will contact you to confirm it is essential.
We wish you and your family all the best during this period, and if there is anything else we can do, please do not hesitate to contact us.
If our situation changes, we will communicate with you as soon as we can.
Thank you for your continued business. Our staff will remain at your service and the essential service of our communities during these challenging times.
Kind regards,
Steve Braniff

Chief Operations Officer

Matthew Still

General Manager Sales & Marketing
---
Ideal Electrical Coronavirus announcement
To our valued customers,
We are open. Check your local store's trading hours.
Ideal New Zealand is committed to the health, safety and well-being of our employees, their families, our customers and our suppliers. On behalf of our team, I'm writing to you directly with an update on our response to COVID-19 and the recent announcement that New Zealand is moving to Level 4.
The first thing you need to know is that all 48 Ideal branches remain open for business as part of the supply chain to building and construction along with utilities and communication.
How we interact with our customers will need to adapt. We will make the following changes immediately to help ensure the safety of you and our staff, and these may evolve.
Branches will only be open for entry 'in-person' by account holders, and not the general public. Please note we will not have any cash transactions.
We ask that, wherever possible, customers send through their orders in advance by phone, email, fax or shop online on the Webshop here. We will pick and pack your orders for you, and have them waiting for collection. This forward ordering will minimise contact for you and our staff.
When you enter our branch to collect you order, we ask you to observe a two-metre distance from other account customers and our Ideal Electrical staff as much as possible.
If you require deliveries, and we can facilitate that, we will take a photo of you with the goods as proof of delivery, and no signatures will be required.
Vending machines and coffee machines will not be available.
Toilets will be exclusively for staff, and hand sanitizer will be available in the collection area where possible on the counter for customers.
We are taking an informed and balanced approach and are implementing measures to manage infection control within our branches and offices. Ideal New Zealand has in place a robust Business Continuity Plan, which we are continuing to adapt to the current circumstances.
We remain open for business and are committed to meeting your needs during this challenging period and will continue to proactively serve you through our network of 48 branches, our field sales teams and our online capabilities.
Our new and revamped Webshop is open 24/7 and offers you easy access to your account information, product availability and order placement.
You can find our supplier updates available on our Webshop by clicking here, and this page is updated as new supplier information comes to hand.
If you don't already have a login, please talk to one of our staff, and they will help you set up your account straight away, alternatively please click here to get started.
If our situation changes, we will communicate with you as soon as we can.
Thank you for your continued business. Our staff will remain at your service and the essential service of our communities during these challenging times.
Kind Regards,
Steve Braniff

Chief Operations Officer

Matthew Still

General Manager Sales & Marketing
---


Firstflex Coronavirus announcement
19 March 2020
UPDATE FROM FIRSTFLEX CABLES REGARDING: COVID-19 ACTION POINTS
At Firstflex Cables the safety and well-being of our staff, customers, suppliers and community are extremely important to us and we wanted to update you on what we are doing in light of the COVID-19 outbreak.
We are continuing to monitor the developing situation very closely and like many other businesses we will be guided by the Ministry of Health.
Here is our overview of our current situation:
Our People
We have strict measures/procedures in place to identify staff that are showing signs of sickness. We send staff home immediately if they are feeling unwell
We have also set up an in-house isolation room to separate unwell staff room healthy staff. This is for staff that are unable to drive due to sickness
We have increased cleaning in high use areas and circulated best practice hygiene posters and practices around the organisation
We are preparing for our people to work remotely. This will include operational areas such as admin, purchasing and internal sales.
Like many businesses we have Business Continuity Plans in place to ensure we can continue to operate in the event of an issue or crisis
Our Customers
All business-related domestic air travel has ceased. We will not have face to face contact with customers in Central North Island, Wellington, Westcoast, Queenstown and the Nelson/Blenheim areas.
At this stage our BDM's are still visiting all other regions on the proviso that:
We contact our customers prior to calling to make sure they are happy with us calling on them
We keep a 2m distance from wholesaler staff, we do not shake their hands and sanitise prior to the visit
Or if we are advised by head office not to visit we will cease contact immediately.
We also have in place a sales call contingency plan for our BDM's to make contact with key wholesale customers via phone or email. We will ensure that the call has substance (new product information, sales analysis etc.) and isn't time wasting.
We have a new visitor policy to ensure customers and suppliers that visit us follow our sanitation procedures when they come on site
Supply/Delivery
Our current stock situation is very good with no major outages
We have no major disruption for supply from our manufacturers
While there are minor delays to shipping lines our high stock levels can cater for this
We understand that this is an unprecedented and evolving situation. We would like to thank you for supporting us to keep people safe and help prevent the spread of the virus any further within New Zealand.
Chris Burgess General Manager – Firstflex Cables
---
Signify Coronavirus announcement
To: All Signify Pacific Customers
Signify is focused on mitigating the risk to our employees, customers and business caused by Coronavirus (COVID-19).
As you are aware, we are monitoring the spread of the coronavirus (COVID-19) across many countries around the world. Our thoughts are with those who are impacted. Signify continues to take precautions to safeguard the health, safety and wellbeing of our employees and their families. Over the past 2 months Signify have followed global advice on travel and isolation to ensure our teams and our customers are protected.
Signify has a global steering committee in place which meets daily and has implemented pro-active measures with respect to the Coronavirus. International travel bans are in place with self-isolation, following return.
With the Governments in Australia and New Zealand implementing a compulsory 2-week self-isolation on return from Overseas, we are supporting our employees returning from personal leave, and have had self-isolation in place in since early February from high-risk OS countries. Signify is monitoring the Government advice daily in addition to our global steering committee.
Our contingency plan.
We have implemented a business contingency plan effective 19th March until further notice.
For our office- based employees, we have implemented an independent two-tier team structure, with Team A and Team B working from the office on alternate weeks, these teams will continue to work from home during their exclusion week.
For critical roles including our Sales Order Desk we will continuing to work throughout in a dedicated "clean" area to minimise interaction with the broader team.
We also have an "extreme" contingency plan in place, should the office need to close entirely, with employees taking laptops home daily, and the ability to work remotely.
Signify has implemented actions in our offices for hygiene, and any employees with any signs of illness are seeking medical attention and are required to gain medical clearance prior to returning to work.
Business continuity
At Signify we are focused on the continuity of supply to all our customers, through both sales and supply chain.
We have challenged our sales teams to consider the best and safest way to interact with our customers, face-to-face meetings or via phone or Microsoft Teams to prevent/minimise any possible exposure.
Domestic travel has been limited to essential travel only.
Any visitors to our Signify offices required to complete Visitor travel forms confirming they have not travelled to the high-risk Countries during the past two weeks.
Global Supply Chain
Signify has manufacturing and operations in more than 70 countries and our global supply chain including our China operations has managed the flow through of product and until now, maintained our committed customer deliveries.
Logistics capacity in China has been impacted. Road freight (limited availability of trucks and drivers), as well as strict traffic control between cities, provinces and ports are impacted. Airfreight capacity is limited with lead times extended and rates significantly increased. Many sea-freight shipments inbound from China to Port Botany have been delayed as a result of an enforced 14-day quarantine period. In some cases, vessels are being diverted to Melbourne to comply with this quarantine requirement, adding up to 4 days to the Sydney shipping times.
The virus outbreak, and the corresponding closures, slowdown and travel bans are beyond our control. We therefore have no option but to treat it as a force majeure event.
For the next month we are closely tracking open purchase order lines and all inbound deliveries and are experiencing some delays. Given this a fluid and highly changeable situation, it is difficult to always accurately determine and to confirm all expected delivery dates. We will however provide you with the latest information as-and-when it becomes available.
We are expecting a steady recovery in factory output and capacity as 2nd tier suppliers, component and packaging suppliers return to full capacity and transport constraints ease. You can expect to see this reflected in the delivery commitments over the coming weeks.
Communication is critical
We will continue to monitor and respond appropriately as required to protect the health of our employees and our customers. We would like to thank you for your continued support over this period and remain open to feedback on how we can improve our services or support.
If you require any further information, please contact your local representative,
Sincerely
David Gardner - Signify Pacific Countries Leader
Chris Morris- Signify Country Leader New Zealand
---
Smiths Coronavirus announcement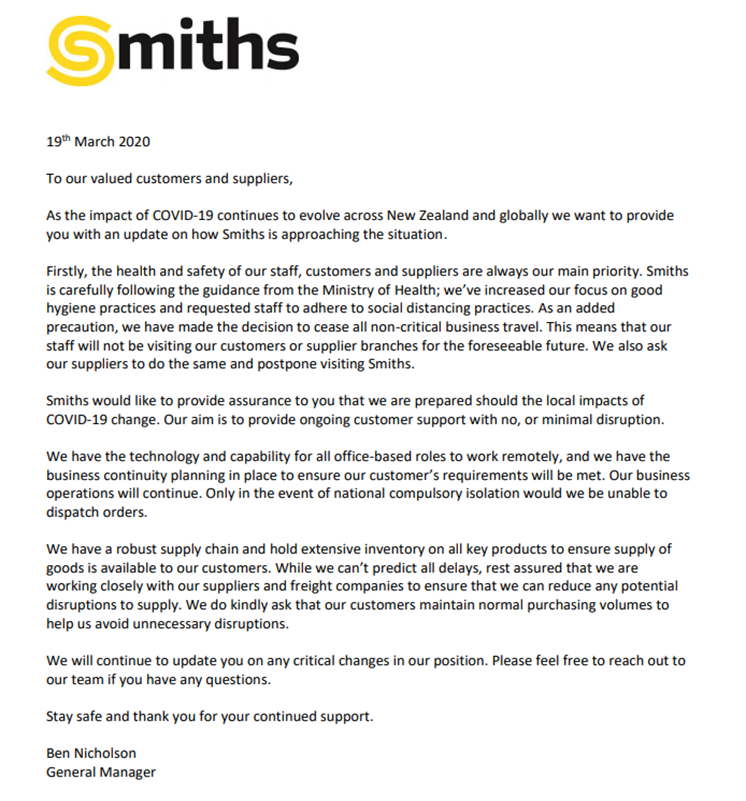 ---
Marley Coronavirus announcement
17 March 2020
As the current Covid-19 situation continues to evolve around the world and here in New Zealand, we would like to provide a quick update:
Supply Chain Continuity
We are continuing to manage our supply chain by working closely with our suppliers and logistics partners, combining the global reach of the Aliaxis group with our local manufacturing footprint.
As a result we have been able to avoid any significant Covid-19 related impacts. Thank you for continuing to communicate with us proactively about your large upcoming projects as this is helping us to plan more effectively.
Health and Safety of our people
One of our core values in the wider Aliaxis group is Commitment to Care and a critical part of this is looking after the safety of our people as our No.1 priority. Its through this lens that we are continuing to make tough decisions about the Covid-19 situation to ensure our staff feel safe and are not being put at risk during the course of their jobs. We also want to ensure we are doing our part to help contain and prevent the spread of Covid-19 in New Zealand.
As such we will not be attending or exhibiting at any conferences, external tradeshows or events in the coming months, will cancel all non-essential domestic air travel and have ceased all international business travel by our staff. Internally, we are replacing face-to-face meetings with virtual meeting options such as Microsoft Teams wherever possible and avoiding any meetings of more than 10 people.
At all of our sites we are taking a number of precautions to ensure we maintain a clean work environment. These include increased cleaning cycles, provision of disinfectant spray and wipes, and suspension of any non-essential contractor visits to our sites.
Customer Collections
We are also putting a temporary halt on customers visiting our sites to collect orders, to allow us to maintain better control of visitors. These collect orders will instead be couriered or freighted at Marley's cost – please speak to our Contact Centre should you have a collection order in the system currently.
We appreciate your ongoing support through this challenging period. We will continue to take calm and pragmatic decisions that help to protect our people and community while still striving to provide you with the highest level of service.
Kind regards,
Mike MacDonald
Managing Director
Marley New Zealand
---
Nexans Coronavirus announcement
6 March 2020
To: All Nexans New Zealand Customers Re: Coronavirus (COVID-19)
Nexans New Zealand Crisis Management Team have continued to monitor the developments of the outbreak of COVID-19 and the effects on the market over the last couple of weeks and would like to update you all on our Business Continuity Plan (BCP).
New Zealand Production
We primarily manufacture and supply key products into our New Zealand market from our New Plymouth factory.
We have adapted our production scheduling to ensure we have capacity to meet additional demands during this period.
Raw Materials, Supply Chain and Logistics
Currently raw material supply lines, particularly copper, are secured through our Nexans Global network outside of high-risk areas.
We are in close contact with all our business suppliers to ensure we continue to carry out operations without disruption.
We have not identified any risks which could jeopardise our ability to supply our customers at this time.
Health and Safety of our employees
Safety of our employees is our first and foremost concern and one of the key areas of focus is prevention.
Personal Hygiene communications have gone out to all employees and sanitary measures have been put in place.
Contractors and visitors
Contractors and visitors to our sites have been asked to either postpone visits or to sign a declaration stating that they have not recently travelled to contaminated areas before they arrive.
We thank you for your support and will continue to follow closely the evolution of the Covid-19 epidemic and react as necessary with any new developments. If you have specific enquiries, please contact your Business Development Manager directly.
Michael Pienaar
Country Manager & CEO
Nexans New Zealand Limited